The Long Grey Line salutes its football coach of 32 years who guided Tar Ball to an average of one CIF championship game every four years.
The Newport Harbor High School Hall of Fame skipped 2018 for new inductees, but it will pick back up in 2019 and will one day include former Tar Ball head football coach Jeff Brinkley.
When asked if it might take more than five years for Brinkley's enshrinement in the NHHS Hall of Fame, Ne
wport Harbor High Principal Dr. Sean Boulton said, "I don't think so."
Accolades are sure to come Brinkley's way in the future, after coaching the Sailors for 32 years, and 
tonight
 we pay tribute to him and say, 'Thank you coach!' We salute Brinkley for his past, present and future in the Long Grey Line.
"They should name the field after him," Newport Harbor Booster Club President Jason Lavin said. "Nobody is going to be there 32 years like Brinkley. (First-year coach) Peter Lofthouse will not be here 32 years. I couldn't imagine anybody would be here that long (these days)."
In typical Brinkley fashion, he didn't want any press conferences or parties, but preferred to quietly, in his classy way, step aside after guiding Newport Harbor football since 1986. Brinkley is a gentleman, role model and the most successful football coach in Newport-Mesa Unified School District history, as well as the fifth all-time winningest high school coach in Orange County.
At Newport Harbor, Brinkley finished with a 244-130-3 overall record and the Tars earned eight CIF-Southern Section finals appearances, winning three section championships.
"(Brinkley) was never a quote machine, but I think there was a mutual respect between he and I, and just to bear witness to his excellence (as a coach) was so enjoyable," said Barry Faulkner, whose 30+ years as a sportswriter, mostly for the Daily Pilot, mirrored Brinkley's time at the helm of Tar Ball.
When Brinkley attended his first Newport Harbor Football Booster Club meeting on Galaxy Drive in Dover Shores, the then-rookie Tars' head coach was impressed with the neighborhood.
Upon retiring as coach in January, Brinkley left everything spotless in the cabin and on the top deck, and all of Tar Ball is grateful and proud to have been blessed with such a fine teacher/coach and gentleman.
"After the banquet last year when Coach Brinkley sat down, he said, 'Well, that's it,' and I said, hey, you didn't say anything to anybody," Newport Harbor Football Alumni Relations Chairman Joey Kolina said. "But I guess that's the way he wanted to go out. He didn't want any parties. He just retired (nine days after the banquet)."
The son of a policeman and a catcher on a Cal State Fullerton baseball team under Augie Garrido, Brinkley was eager to join the coaching ranks following an outstanding two-sport collegiate career. Brinkley also played baseball at Cerritos College under Wally Kincaid, and considers Garrido and Kincaid two of his fiv
e lifetime mentors, a list that starts with his father, Roy, and includes his Excelsior High (Norwalk) football coach and longtime Harbor assistant Bob Larson and NFL and college football coach Mike White.
A standout quarterback in high school and college, Brinkley turned to football as his calling card in coaching, and after 11 years combined at Excelsior and Norwalk high schools, Brinkley arrived at Newport Harbor, where the Tars celebrated often during Brinkley's three-plus decades, on average competing in a CIF-Southern Section divisional championship game every four years.
Adding his seasons at Excelsior and Norwalk, Brinkley is ranked as the 19th winningest football coach in state history with 273 career wins.
With Brinkley, Newport Harbor experienced its longest-tenured helmsman and link to the Long Grey Line. Because of its nickname, the school has always associated itself as the Long Grey Line, and since the school color is battleship grey, the Sailors spell it that way.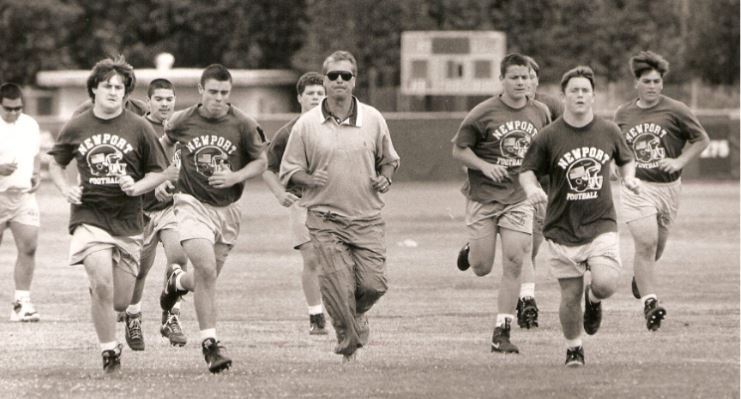 Brinkley's Harbor teams played in four section finals in the 1990s, three in the 2000s and in 2013. Brinkley coached the Tars to unbeaten championship seasons in 1994 and 1999, and the first perfect record in district history in '94 at 14-0.
"Jeff Brinkley coached Newport Harbor to three CIF championships (and 23 playoff appearances), and really solidified football at our school," Boulton said. "I have nothing but respect for his coaching and how he coached our program."
There was no farewell tour or social media posts to announce his retirement, so Tar Ball is beginning a campaign 
tonight
 to thank one of the greatest coaches in school history.
"Coach Brinkley is one of those John Wayne kind of guys," said longtime Newport Harbor assistant football coach and close friend Mike Bargas, the head coach at Estancia since 2007. "(Brinkley) is just kind of old school. Everybody shaves their hair (before the season). Everybody wears the same uniform. There are no earrings. Brinkley has always tried to do things the right way. Everybody wears a shirt and tie to school on game days. And now I'm doing all those things over here (at Estancia)."
Reaching the CIF playoffs had been almost automatic at Harbor under Brinkley and advancing past the first round was as traditional as the band playing "Anchors Aweigh."
"(Brinkley) is a guy's guy. He'll be beating the (heck) out of you one minute, then he's making jokes with you the next," said Bill Johns, Newport Harbor's All-CIF nose guard in 1994.
While Brinkley might have ridden out of Tombstone quietly, we are here to celebrate his legacy and Tar Ball will always be grateful. Thank you coach.
By Richard Dunn