For the second straight week,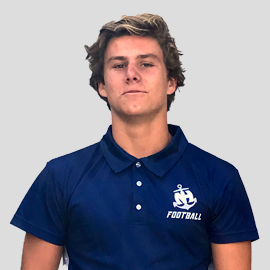 McCoy, JustinJustin McCoy last-minute touchdown run salvaged the game as the Newport Harbor football team completed a fourth quarter rally at San Marino. This time, the Sailors could only come away with a hard-fought but somewhat confounding 20-20 tie against the Titans, a team ranked number 6 in their CIF section.
While Harbor head coach Peter Lofthouse was expecting to play overtime, the officials informed him that the home team, citing a rash of injuries, opted to forego an extra period prior to the game.
"I said I wanted an overtime," a resigned Lofthouse said. "They never told me – the officials – if there was gonna be an overtime or not. I assumed there would be. In the preseason it's just something both coaches have to agree to."
McCoy was instrumental in leading a Harbor offense that was challenged by a strong San Marino defense. After coming off the bench to rush for two touchdowns including the game-winner at Santa Monica a week earlier, the sophomore making his firs start broke out with 101 yards rushing and three touchdowns against San Marino.
"Justin played well, again," said Lofthouse. "He's really becoming a focal point in the run game. We just gotta continue to progress."
The Titans drew first blood early in the second quarter. After completing a 51-yard pass down to the goal line, fill-in quarterback Connor Short plowed in for a 1-yard touchdown to make it 7-0.
The Sailors tied it two possessions later on McCoy's 1-yard plunge, then took the lead just before half when McCoy powered in from 12-yards out with a rugby-scrum type assist from his offensive line. A snap malfunction negated the extra point try and Harbor led 13-7 at half.
The scoreless third quarter was a defensive stalemate with Harbor's interior line and linebacking corps holding tough against a relentless San Marino straight ahead rushing attack. Seniors Connor Spence, Gabe Galdamez and Jack Phillips, along with juniors
Koste, ChadChad Koste and safety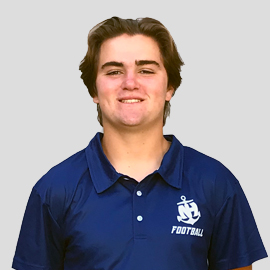 Duffy, BrendanBrandon Duffy punished the Titan ballcarriers with repeated big hits. Phillips recorded two of the Sailors six sacks against Short.
On offense, the Sailor's sputtering passing attack seemed to find a groove late in the third with sophomore quarterback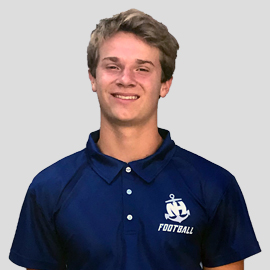 Lavin, ColeCole Lavin hitting junior tight end Clay Liolis on three straight completions to move inside the red zone. The momentum was lost on the next play when the Titans defense stiffened, grabbing its third interception of the game.
Lavin, who finished 17 of 32 passing for 155 yards with the three interceptions, may not have been as sharp as in his starting debut a week earlier, but once again he stepped up big when the team needed it.  And once again, so did junior receiver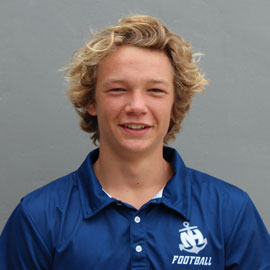 Goltz, AidanAidan Goltz(8 receptions, 77 yards).
For the second week in a row, a wild fourth quarter made the trip worth it for the few hundred Harbor faithful that commuted deep in to LA County. On their second possession of the quarter, San Marino, aided by some questionable officiating, unleashed a dormant passing attack on a 12-play, 87-yard drive resulting in a go-ahead touchdown. The march was resuscitated twice – first on a phantom pass interference call and then an overturned interception by Michael Morrison that only a distant official was apparently able to see. Four plays later, Short hit Jacob Leftwich for a 24-yard score giving the Titans a 14-13 lead.
After the Sailors went three & out, San Marino struck again on a 67-yard catch and run by Sean Richardson straight through the heart of the defense that left Harbor stunned. Crucially, the Titans kicker missed the extra point, leaving it a 7-point game at 20-13 and setting the scene for another Sailors comeback.
Senior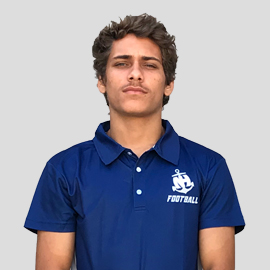 Cruz, RaphaelRafael Cruz was expecting to sit out the game out as he recovers from a sprained ankle but he entered in the 4th quarter and sparked the final drive with a kickoff return close to mid-field. From there, a poised blend of McCoy rushing and Lavin passing kept the Titans off balance. Key completions included a 16-yarder to junior Mason Walker on 2nd and 24, and two plays later, a clutch 16-yard grab by Goltz on 4th down kept the drive alive. Goltz made one more spectacular 8-yard reception off a tipped pass to put the ball on the San Marino 20-yard line with 23-seconds to play.
On 3rd & 4, the surprising call was the give to who burst up the middle and broke several downfield tackles before lunging just over the goal line. Junior kicker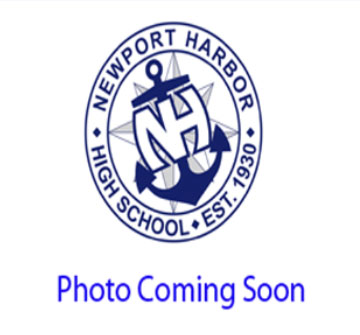 Starnes, JackJack Starnes hit the extra point to tie the game at 20-all.
The ensuing kickoff gave San Marino a last opportunity with 14-seconds on the clock but the Titans simply surrendered by taking a knee. After a bit of confusion regarding overtime, the game was called and both teams took away the 20-all tie.
Lofthouse praised his team's resilience for the second late comeback in as may weeks, but wasn't particularly pleased with the final outcome.
"Part of it is our own fault because (we had) too many turnovers, too many penalties, and so we put ourselves in those situations," the head coached summed up. "We gotta learn this week in practice you're not going to be able to get away with that in league. Hopefully we'll make those corrections and be better against Huntington Beach next week."
Newport Harbor takes a 3-1-1 record in to their Sunset League opener next Friday night against the Huntington Beach Oilers (4-1). The home game kicks off at 7:00 pm at Davidson field.
-Matt Morrison