The 57th edition was the first for Newport Harbor head coach Peter Lofthouse. Now there's a better understanding of what the Battle of the Bay is all about – no holds barred.
Corona del Mar never let up and dominated the annual rivalry classic behind a school record-setting performance by Sea Kings junior quarterback Ethan Garbers, who's seven touchdown passes propelled a 63-14 victory Friday night at Davidson Field. Garbers broke the record of 6 TD passes he shared with his older brother Chase Garbers, now a redshirt freshman playing for Cal.
In addition to the CdM passing attack, Harbor was victimized on special teams and by the defense. CdM quickly scored points following a first quarter fumble recovery, a successful onside kick to open the second half, a blocked punt returned for a touchdown and an interception also returned for a second half score.
It was the sixth-straight win for the Sea Kings (7-1-1, 3-0-1) in the always-anticipated Battle of the Bay, and first as a new member of the Sunset League. Newport Harbor (3-5-1, 0-4) looks to break a 4-game skid and earn a league victory when it faces Fountain Valley next week in the regular season finale.
"This is a learning experience for me, I'm new to the Battle of the Bay, this is my first one and there's a lot of great things to learn from this game," Lofthouse reflected. "The environment was great. I really appreciate the crowd coming out and supporting the team the way they did."
CdM opened the scoring on its second possession as Garbers hit junior John Humphreys with a one-yard touchdown pass, the first of two scoring connections between the pair Sea Kings underclassmen that are both division-1 college prospects. The combination produced a 57-yard TD in the second half as Humphreys finished the night with seven receptions for 110 yards and the two touchdowns. Tight end Mark Redmon also caught two touchdown passes covering 32 and 50 yards.
"Miscues are gonna happen when you've got two great players like that," Lofthouse said while noting his defense played well for long stretches of the game. "We tried double covering them at times and they still made plays, so you gotta give them a lot of credit for that. Garbers did a good job of extending plays with his legs and he did that. Can't take away everything with them, they are a very good football team."
More painful for the Sailors was the loss of sophomore starting quarterback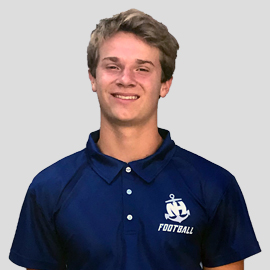 Lavin, ColeCole Lavin to a broken left collarbone late in the second quarter. After leading Harbor on an 11-play, 62-yard scoring drive that resulted in a 2-yard touchdown pass to senior receiver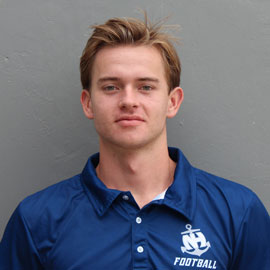 McCrory, RoryRory McCrory, Lavin and the Sailors offense appeared to build some momentum. On the next possession however, Lavin was driven in to the ground after a short scramble. Although he stayed in the game and completed his next pass, Lavin retreated to the sideline as the injury became evident.
"Losing Cole was definitely a big shot that hurts a lot," Lofthouse said. "He had been developing some rhythm within the offense, he'd been improving week in and week out, so to lose him before the last game is one that will sting for a while."
The better news is that Lavin's x-rays show a clean break to his left, non-throwing shoulder, an injury that is highly treatable with an approximately 8 week recovery period.  It's expected he will have no lingering effects.
Lofthouse was pleased that his team never threw in the towel despite the tsunami of Sea Kings scoring. Senior captains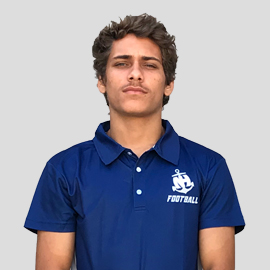 Cruz, RaphaelRafael Cruz, Brian Baily and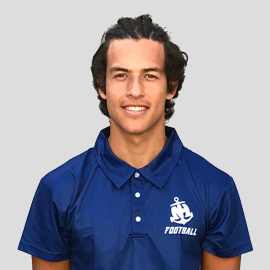 Phillips, JackJack Phillips continued to make impactful plays on defense and the offense rallied late behind back-up quarterback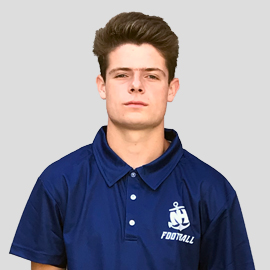 Testa, AndrewAndrew Testa to give the Tar faithful something to cheer about late in the 4th quarter.
On the Sailors final possession, Testa completed eight of ten passes driving the team 60 yards for the final score of the night. On a 4th and 9 play, Testa hit McCrory with a 12-yard touchdown pass to close the night. Lavin finished 10 of 19 passing for 76 yards and a touchdown. Junior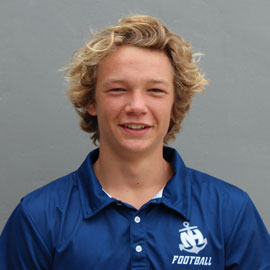 Goltz, AidanAidan Goltz was the leading receiver with four catches for 67 yards.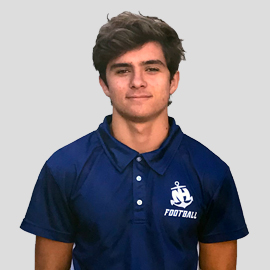 Keliikoa, JakeJake Keliikoa was Harbor's top rusher with 17 yards on four carries before leaving the game with a recurring left knee injury.
Lofthouse said it's unclear how they'll assess the quarterback position for the final week.  McCrory started one game at quarterback earlier this season before switching to receiver when Lavin emerged as the starting QB. Junior Clay Liolis also started at quarterback in the first two games before shifting to tight end.