Thursday, Oct 11 at 7:00 p.m.
Away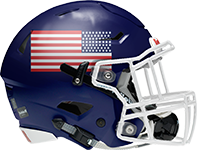 Not Enough Wind for Sailors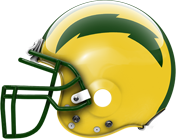 Not Enough Wind for Sailors in Loss at Edison
Navigating through the rough waters of a tough Sunset League schedule, the Newport Harbor football team found its compass still a bit off in a 40-10 loss to Edison Thursday night at Huntington Beach High. The third straight setback left the Sailors with a 3-4-1 record, 0-3 in Sunset play heading in to next Friday's Battle of the Bay rivalry.
"We had a chance," reflected Harbor head coach Peter Lofthouse of the effort against Edison. "I think for three quarters we were very competitive and then we let it get away from us in the fourth."
The Chargers (4-4, 2-1) took advantage of good field position and senior runningback Kobe Lopez to build an early lead. Lopez carried twice for 13-yards and a touchdown on Edison's second possession to put the home team on the scoreboard. On the next possession he carried four times for 82-yards, capping a 6-play, 89-yard drive with his second two-yard TD run to make it 14-0 Edison. Lopez ripped off long runs of 42 and 31 yards on the drive and finished the night with 165-yards rushing on 20 carries and three touchdowns.
The Sailors offense struggled to gain a foothold against a tough Chargers defense that forced Harbor to punt on its first six possessions. The Tar passing attack found some rhythm late in the second quarter with sophomore quarterback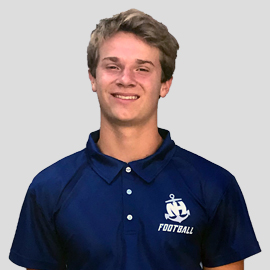 Lavin, ColeCole Lavin connecting with junior receiver Richard Lemon for a momentum-building 25-yard gain. Another completion to junior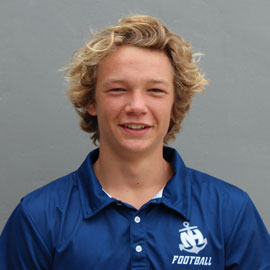 Goltz, AidanAidan Goltz gained enough ground to set up a 37-yard field goal that juior kicker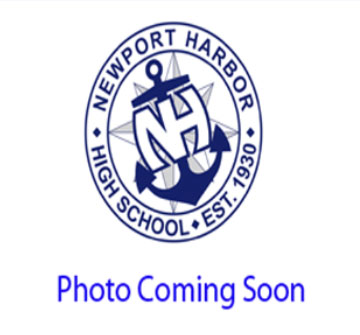 Starnes, JackJack Starnes drilled through the uprights.
Junior linebacker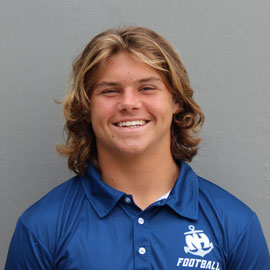 Brigandi, JohnnyJohnny Brigandi turned in the defensive play of the night with Edison threatening again just before the half. Brigandi executed textbook downfield coverage on a long pass play that he intercepted at the goal line and returned for 19 yards. The defensive stop preserved the margin on the scoreboard with the Chargers leading 14-3 at the break.
Edison extended its lead on a 12-yard touchdown pass on the first possession of the third quarter. The Sailors responded later in the third as Lavin connected with Goltz for a six-yard touchdown that made it 21-10 after Starnes hit the extra point.
Although the Harbor defense continued to play hard – with notable individual efforts from Brigandi, juniors
Koste, ChadChad Koste,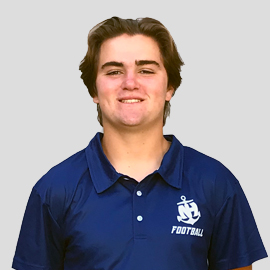 Duffy, BrendanBrendan Duffy, and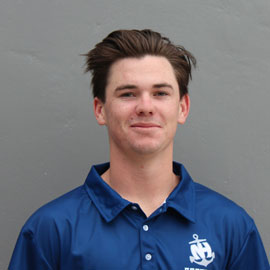 Hatfield, LukeLuke Hatfield along with senior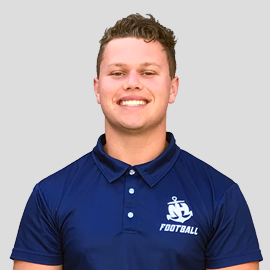 Spence, ConnorConnor Spence – the collective couldn't keep the Chargers in check. Edison scored touchdowns on three of its four fourth quarter possessions to take the victory going away.
"I felt like we played really hard for three quarters, gave ourselves a chance to beat a really good team. I think at halftime we felt like we had a chance to win the game," Lofthouse said. "Unfortunately, those critical errors (missed tackles, missed assignments) in big games will cost you."
The head coach was encouraged by a better offensive effort as the game progressed despite a rushing game that netted just one yard on the night. Lofthouse praised the front line for better pass protection and feels his sophomore quarterback is showing good progress with each game. Lavin finished 14 for 27 passing for 112 yards and the TD to Goltz (7 receptions, 62 yards, TD). Junior runningback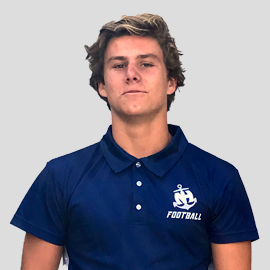 McCoy, JustinJustin McCoy finished with 13-yards on 9 carries with the rest of the team totaling -12 yards on the ground.
"We've done a good job of making improvements each week," Lofthouse told his players after the game. "We're in the gauntlet of three of the toughest game on our schedule. Next week we've got another big game and we've got to continue to improve and eliminate those mistakes."
Next up, it's the annual Battle of the Bay against arch rival Corona del Mar. The Sailors are the designated visiting team on their home turf for the Friday night October 19 match-up at Davidson Field.
– Matt Morrison
Sailors Face Edison on Thursday Night Football
Tar football travels up PCH across the city limits to take on the Edison Chargers this week for a Sunset League edition of Thursday Night Football. Kickoff is set for 7:00 pm at Cap Sheue Field on the campus of Huntington Beach High.
The Sailors (3-3-1, 0-2) look to bounce back from a tough 42-7 loss at Los Alamitos and earn their first league win of the season. Edison (3-4, 1-1) is coming off a 20-14 win over Huntington Beach and is ranked 13th in this week's OC Register high school football rankings.
Despite the lopsided final score against 5th-ranked Los Al, Harbor left Cerritos College last week with something to build on. The defense shutout the Griffins in the second half and the unit should get stronger with the return of senior captains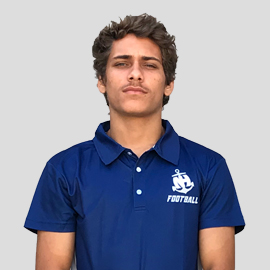 Cruz, RaphaelRafael Cruz (ankle injury) and Gabe Galdamez (suspension) to full time action. Cruz, who has had limited participation on return teams in recent weeks, should help stabilize the secondary that has been vulnerable in his three game absence.
The Sailors offense regrouped after the Griffins' defense dominated in the first half. Adjusting to a quick-hitting passing attack, the Harbor passing game found its rhythm with sophomore quarterback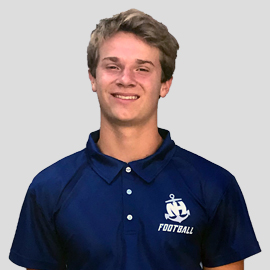 Lavin, ColeCole Lavin connecting with junior receiver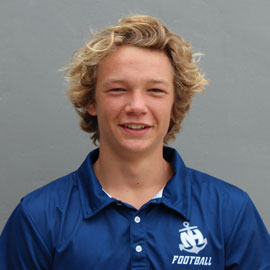 Goltz, AidanAidan Goltz and sophomore runningback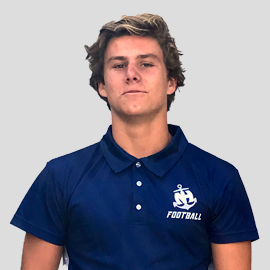 McCoy, JustinJustin McCoy to move the chains. Lavin hit senior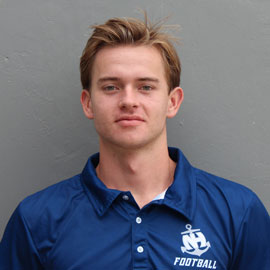 McCrory, RoryRory McCrory with a 20-yard touchdown pass in the fourth quarter to avoid a shutout. Lavin finished 17 of 26 passing for 186 yards. Goltz was the leading receiver with eight catches for 111 yards.
Edison features a balanced defense that is stingy against the run and a strong pass rush that has helped produce seven interceptions on the season. The Chargers offense is founded on a rushing attack that averages 128 yards per game. Senior runningback Kobe Lopez gained 168-yards on 23 carries in the win over Huntington Beach.
Edison employs a two-quarterback system with sophomore Braeden Boyles handling most of the chores. Boyles connected on just eight of 20 pass attempts for 87 yards against HB. Senior Mike Walters rotates in to run the wildcat formation and rushed for two touchdowns last week.
The Thursday night showdown is the second of four straight official road games for Harbor although Tar football does return to Davidson Field a week from Friday, October 19, when the Sailors will be the visiting team against Corona del Mar in the annual Battle of the Bay.
What:             Newport Harbor at Edison
When:            Thursday, October 11, 7:00 pm
Where:          Cap Sheue Field at Huntington Beach High
                        1905 Main St.
                        Huntington Beach, CA 92648