Friday, Sept 7 at 7:00 p.m.
Home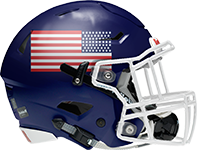 Tars win again. Record 2-1.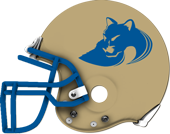 Sailors Dominate University of LA
The Newport Harbor football team bounced back from its first loss of the season with a dominating 35-13 victory over University High of Los Angeles Friday night at Davidson Field. The win is the second-straight at home as the Sailors improve their record to 2-1 under first-year head coach Peter Lofthouse.
Harbor grabbed the momentum early as the defense bottled up the Wildcats run game then stole possession on the first pass play of the game. Junior safety Michael Morrison's interception and 23 yard runback gave the offense a point-blank opportunity with a first and goal set up. Junior runningback Jake Keliikoa made it count on a three-yard touchdown run on the Sailors first offensive play.
The Harbor defense set the tone for the night with front line play that shut down University on the ground and continually harassed the quarterback in passing situations. Sophomore nose tackle Chris Jover and senior Gabe Galdamez provided the push with seniors Connor Spence and Jack Phillips making several tackles at or behind the line of scrimmage. Junior Clay Liolis also saw action on the defensive front after playing the first two games on offense as the Sailors starting quarterback.
University's lone scoring opportunity in the first half was snuffed when Austin Osumi blocked a Wildcats field goal try.
Senior Rory McCrory took over as the signal caller on offense and was impressive in his starting debut. McCrory hit on his first four passes on Harbor's second possession, including a 31-yarder to junior receiver Aidan Goltz that led to another Keliikoa short touchdown run to make it 14-0.
McCrory continued on target in the second quarter, hitting junior Mason Walker with a 28 yard connection to set up the Sailors third touchdown. It was 21-0 after McCrory lofted a perfect 19-yard scoring pass to junior Richard Lemmon in the back of the end zone. The halftime score could have been worse as senior Rafael Cruz anguished over a 50+ yard punt return touchdown that was called back due to an illegal block he didn't need.
With a comfortable lead throughout the second half, the Harbor coaching staff exercised the playbook and gave bench reserves some meaningful playing time. After Walker scored on a double-reverse from 10 yards out to make it 28-0, junior Andrew Testa took over at quarterback.  Testa connected on all three of his pass attempts in leading a fourth quarter scoring drive capped by sophomore Justin McCoy's three-yard TD run. Sophomore Cole Lavin also took snaps, completing two of three attempts for 30 yards. Lavin also had a 35-yard touchdown run called back when his play fake drew a quick whistle, fooling the officiating crew as much as the University defense.
McCrory finished with 10 completions in 17 attempts for 142 yards. Walker had five receptions for 61 yards and junior Aidan Goltz snagged four passes for 68 yards. Keliikoa was the leading rusher with 66 yards on 8 carries.
Harbor takes its 2-1 record on the road for the next two weeks beginning with a trip to Santa Monica next Friday night. The Sailors face the 0-3 Samohi Vikings at Santa Monica City College with kickoff set for 7:00 pm.
-Matt Morrison