Friday, Sept 14 at 7:00 p.m.
Away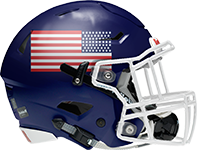 Tars score with 16 seconds to top Santa Monica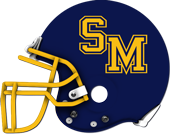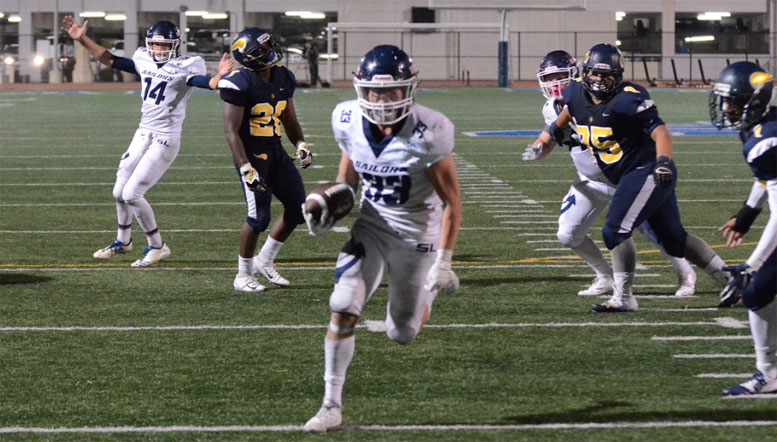 A thrilling finish on the road at Santa Monica salvaged a mostly dominant performance by the Newport Harbor football team that nearly slipped away. The Sailors pulled out their third win of the season, and second in a row, on a last-minute drive to beat the Samohi Vikings 28-21 under the lights at Santa Monica Junior College.
The few hundred Tar faithful that braved the trip up the 405 at rush hour were rewarded with a memorable victory. Harbor fans that didn't travel should wish they had.
Sophomore quarterback Cole Lavin, making his first varsity start, was impressive throughout the evening, particularly in guiding the game-winning drive. Junior receiver Aidan Goltz' amazingly clutch acrobatic catch good for 30 yards with under a minute to play set up sophomore Justin McCoy's 6-yard touchdown run to win it.
"I'm really happy for the boys. They showed the resilience," said Head Coach Peter Lofthouse. "They fell behind, gave it up, and then to come back on that final drive. I think it shows the fight in the boys, so we will build off of that."
The game winner was McCoy's second TD of the night. Goltz turned in one the best performances you're likely to see from a wideout, finishing with 15 receptions for 206 yards and a touchdown. Lavin was even better than his stats line, which totaled 25 completions on 45 attempts for 295 yards, a touchdown, a 2-point conversion, and one interception.
The entire offense, defense and special teams all contributed strong performances in a total team win. The offensive line anchored by seniors Ryan Kearns, Austin Osumi, and Carter Mathsirud was excellent in both pass protection (allowing only one sack) and in opening holes for the run game. McCoy finished with 83 yards on 23 carries. He stepped in when junior Jake Keliikoa was injured on his fourth carry of the first quarter after the starting runningback had already rushed for 27 yards. Junior receiver Mason Walker was a strong compliment with 4 receptions for 60 yards including the final 2-point conversion plus 28 yards rushing on two carries.
The Sailors staunch defense led by linebackers Chad Koste and Johnny Brigandi, both juniors, and senior Brian Baily, shut down the Vikings offense throughout the night. The defensive front with senior Connor Spence and junior Owen Fisher were especially tough in stopping the Vikings running attack. Senior linebacker Jack Phillips returned from a first-half injury to finish off Samohi with a crushing sack on the game's final play.
Senior cornerback and return man Raphael Cruz, one of the Sailors best all-around players, suffered an ankle injury in the first half and did not return. That necessitated some shuffling in the defensive backfield, and led to a pair of missed assignments resulting in two long second half touchdown passes of 36 and 75 yards, allowing the Vikings to creep back in to the game.
After building a 20-0 halftime lead, the Sailors, while still moving the ball, were stifled in second half scoring opportunities. Then all stood in horror as the Vikings turned the tide on three big plays. The mostly shut down Santa Monica offense hit on the two long touchdown passes before the crucial Sailors mistake. The Vikings one interception was a game-changer.
With a six-point lead and marching toward what would be a clinching score, Lavin fired toward the left flat from the Vikings 11-yard line. Defensive back Kobe White was on a dead run when he stepped in front of the intended receiver to make the pick and race 89 yards untouched for the go-ahead touchdown.  Technically, it was the extra point that put Samohi up 21-20.
That set the stage for the Sailors with just over two minutes to play. Junior Kyle Binford ignited the rally with a key 37-yard kickoff return to midfield. Lavin completed 5 of 6 passes on the final drive including two third down conversions to Goltz. The big play was the incredible 30-yard completion that a diving Goltz managed to swipe away from a defender and land in bounds.
"The offense rallied around him (Lavin, after the pick 6)," Lofthouse said. "They put together a great final drive with some big time throws, so it was nice that they rallied around each other."
In addition to Binford's last-minute kick return filling in for Cruz, special teams standouts include junior place kicker Jack Starnes hitting first half field goals from 33 and 30 yards. Baily deflected a second quarter punt that Koste picked out of the air and returned to midfield to spark Harbor's first touchdown drive. Junior defensive back Brendan Duffy forced a second quarter fumble that the Sailors recovered. Two plays later, Lavin hit Goltz for an 8-yard touchdown to make it 17-0. Junior Michael Morrison contributed two excellent open field tackles in kickoff and punt coverage.
At 3-1, the Sailors have already surpassed the win total from a year ago and continue to show overall improvement heading in to another road test at San Marino.
"Our goal is always, just, be 1-0 each week," Lofthouse added. "We accomplished that this week. There's things that we've got to fix, we made some key mistakes and we'll make those corrections and hopefully be better next week."
-Matt Morrison