Cade Feitler Athletic Scholarship
---
In February 2005, Cade Feitler at 13 years of age, suffered a traumatic brain injury as a result of an inattentive driver who ran a red light on Newport Blvd. and broadsided the family vehicle while coming home from Ensign Intermediate. Cade spent 15 long months in the hospital fighting back numerous medical complications. Cade lives at home with his family and spends his days in intense physical, occupational and speech therapy to relearn the things we take for granted, like how to walk, talk and perform the simplest of tasks. It's been a slow motion miracle that has been unfolding every day through the daily grind of hard work, determination and true grit.
Cade's story is one of amazing courage and determination. Over the past several years, Cade has shown his tremendous inner strength and will to get better. His fighting spirit shines through every day and he never gives up. Cade has been an inspiration to many, and it is in this spirit that we have established The Cade Feitler Athletic Scholarship.
The recipient of the $1,000 award will be a college bound senior in good academic standing who exemplifies a strong fighting spirit. In addition, the athlete chosen will understand the importance of being a "Person of Character" by living according to the Six Pillars of Character, as endorsed by all of the coaches at NHHS: trustworthiness, respect, responsibility, fairness, caring and citizenship. He will be someone that everyone looks up to and admires, sets a good example and works to make the world a better place.
This year, we are honored to present the eighth Cade Feitler Athletic Scholarship Award. Prior recipients include Ned Lyon in 2008, Ryan Iverson in 2009, who was the long snapper for the University of Colorado Buffalos, Parker Norton in 2010, who attended the University of Colorado; Cole Blower in 2011, who attended the University of Washington; Derek Kula in 2012; Garrett Hall in 2013, who is attending the University of Arizona; Keaton Cablay in 2014, who is attending Cal Lutheran; and Max Durante who is attending Saddleback College. We look forward to presenting this year's award in honor of Cade's continued recovery and fighting spirit.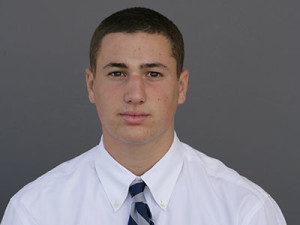 Alex Michaelsen 2016 Cade Feitler Recipient